The Backdoorshoes Box
Are you passionate about our Backdoorshoes? Want to spread the word about our super comfortable, lightweight, waterproof shoes... and make them available to others? Do you have your own ABN?
...then buy a Backdoorshoes Box!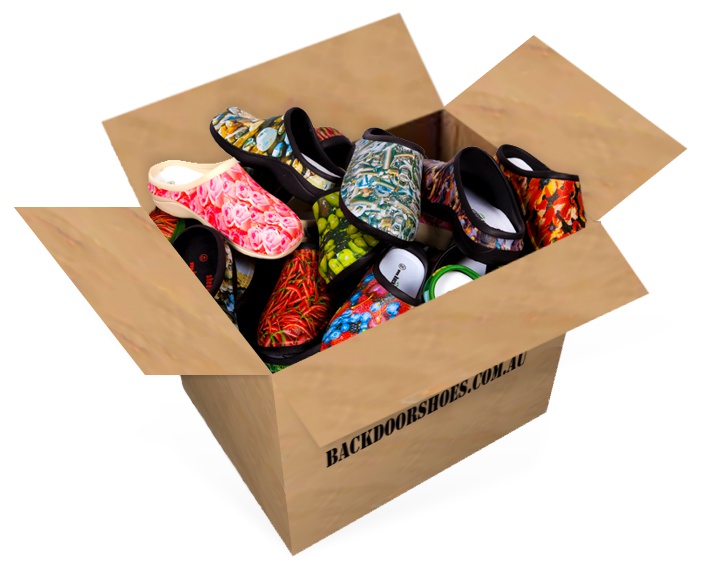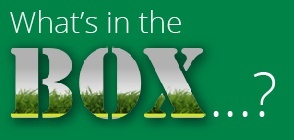 Included in the Backdoorshoes Box:
• 6 pairs of Backdoorshoes
(1 pair of each size – Australian Women's 5-10)

• 6 pairs of our NEW Chunky Tread Men's Shoes
(1 pair of each size – Australian Men's 7-13


A wide selection of our patterns will be chosen at random from our current selection. All you will pay is $250 (plus postage). At current RRP that's over $500 worth of shoes – a saving of over $250! You can then either keep or gift these shoes, or use them as samples for friends and family to try on. You could have a Backdoorshoes party and spread the word even further! We recommend that you charge the same price as displayed on our website (plus postage) for any shoes that you sell. You will be required to have your own ABN.
Even better... after you have purchased a Backdoorshoes Box, you qualify for our repeat order discount on the retail price of shoes as displayed on our website. You will be provided with a unique code exclusive to you. Quote this code when placing an order of at least 3 pairs and you will receive a discount on the shoes purchased.
• 3-10 pairs – 20% discount
• 11-25 pairs – 25% discount
• 26+ pairs – 30% discount
Just use your code every time you order, to receive your discount!
Please note: You cannot use your discount in conjunction with any other promotions/discounts that may be offered by Backdoorshoes to their customers.
---
Fill out the Request Form below, and we will confirm the total delivered price of the Backdoorshoes Box to your location.
---
Terms
Discount applies to the current retail price of shoes displayed on website at time of ordering and Backdoorshoes reserves the right to alter the retail price of all products at anytime. Your code is linked to your name and address. Shoes will only be despatched to the name and address linked to the code. Discount does not apply to postage: this is a separate cost and will remain at $6 per pair for 1-5 pairs. Please contact us for a shipping quote for quantities above 5 pairs. Backdoorshoes reserves the right to withdraw or amend this offer and the associated discounts at any time.